Remembrance Day 2020
Maritzburg College celebrates Remembrance Day
Wednesday | 11 November | College Chapel & First World War Memorial in front of Clark House
We remember…
"They shall grow not old, as we that are left grow old:
Age shall not weary them, not the years condemn,
At the going down of the sun and in the morning
we will remember them"
To the haunting sounds of the Last Post and Reveille, and accompanied by the ceremonial laying of wreaths and the lowering of flags, honoured guests together with current and retired Maritzburg College staff, pupils and old boys joined in a poignant Remembrance Day ceremony outside Clark House.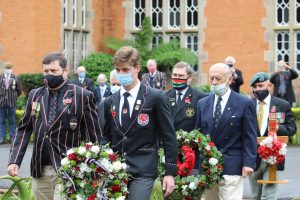 Remembrance Day has special significance at Maritzburg College, given the school's contribution of 261 past pupils and three teachers killed in various skirmishes, battles and war since the first old boy casualty fell in 1873.
The ceremony began in College's chapel, with Master of Ceremonies and Deputy Headmaster, Mr Matthew Marwick, welcoming special guests to the service including Mr Grant Little (MCOBA President), Lt-Col Reggie Purbrick, Mr Rob Jury (14th Headmaster of College), and Mr Marwick's own father, Captain Michael Marwick, master mariner.
Current staff member Mr Graeme Waters (OC 1975) opened proceedings with a scripture reading and prayer, after which College's Senior Deputy Headmaster, Mr Ingo Talke, spoke about significance of the day. As today marks the 100th anniversary of the burying of the Unknown Warrior in Westminster Abbey, it was fitting for our guest of honour, Lt-Col Reggie Purbrick (MBE) to focus on World War 1, and remind of us of that stirring story. Today's ceremony had a distinctly nautical theme, as College staff member and special member of the Old Boys Association, Mr Jabulani Mhlongo, paid tribute to the 646 men, including 607 African troops, who died on the SS Mendi 102 years ago. Retired headmaster, Mr Ron Jury, highlighted a number of College sailors who had earned distinction on the seas and oceans, and in particular, the six Old Boys from both world wars who died at sea or while on naval duty.
Also part of the ceremony, was the unveiling of plaques on the Wall of Remembrance. Since its opening on Reunion Day in the school's memorable 150th year, 2013, the Wall of Remembrance has provided a special place where our College community can remember and honour fathers, sons, brothers and friends. Today, five new plaques were added to the Wall, honouring people with close connections to our school. These include two members of the Class of 1977, John (Wags) Veenstra and Dave Taylor, Lawrence Bruce Wedderburn (13 April 1962 – 26 May 2014), Terence (Terry) Jonathan Wessels (30 March 1969 – 14 September 1994), and David Paul Nixon (13 November 1978 – 26 April 2019).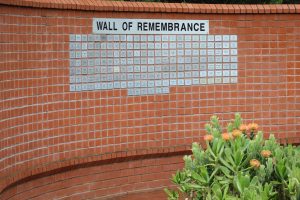 Mr Marwick concluded the ceremony with the words of OC Alan Paton:
"Old Walls that echoed to our cries,
Our oaths and prayers and laughter,
And echo now to cries of those
Who follow after.
"When earth has taken back to earth
Our unremembered bones'
Preserve the echo of our names
About your stones"
Pro Aris et Focis