Reunion Message from MCOBA
Message from the President of MCOBA, Mr Grant Little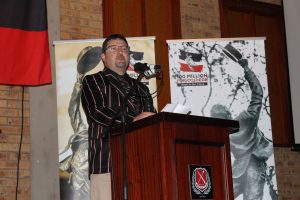 Collegians – both old boys and current learners. I greet you and trust that you and your loved ones are safe and secure during these confusing times. It was the Greek scholar Euripides who said, "Friends show their love in times of trouble, not in happiness."
The great College brotherhood has certainly come to the fore in these times with you and your fellow Old Collegians contributing towards raising in excess of R270,000 to the #LockdownRelief campaign to assist young men who are struggling to continue their academic pursuits while absent from school. We have also had a number of encouraging stories from OCs around the world as they have shared their experiences with us. From a teacher stuck in China, to a wild life photographer in Ecuador, to a farmer in the Midlands and a mom, wife and daughter of College men.
As the world has the first inklings of normality returning with some European countries moving back to a post-COVID situation, the German Bundesliga playing their first fixtures in almost 10 weeks and Rory McIlroy winning an invitational tournament – it seems that we are on the slow road to a new normal.
As this weekend should have been an amazing time of camaraderie, shared memories and cementing friendship & brotherhood, we can easily fall into the trap of feeling deprived by focusing on what could have been, rather than what is. As someone who has been in lockdown alone in a small apartment, I was really looking forward to a bumper Reunion weekend, my last as President and a special anniversary milestone with my Class of 85 mates.
This time of disappointment and reflection has allowed me to look beyond this and see what I am actually thankful for. Just as it is easy to dwell on that last Reunion match on Goldstones, that little dummy and pass on Papes, the goose bump experiences in the Clark House quad, the doffing of a basher to that "khehla" in a stripy blazer, the huge smile in seeing a good mate for the first time in 30 years…. The list goes on. Similarly, on a personal level one can dwell on lost love, missed opportunities and hurts inflicted by others.
I choose rather to focus on the good, my health, the friends and family I have, the time to rest and refocus, relaxing and listening to the soundtrack of your life, rekindling friendships through technology and being ready for the challenges of a new future.
Just as COVID-19 has made significant changes to our personal lifestyles, it has made changes to the way we as an Old Boys Association operate. I give you my assurance, and that of my entire Executive Committee, that while we have had to postpone the 2020 Reunion, we will be back in 2021 bigger and better. I look forward to meeting with you in the near future where we will reminisce about our time spent between the old walls of our alma mater.
"Old walls that echoed to our cries, our oaths and prayers and laughter, and echo now to the cries of those who follow after…"  – Alan Paton
Pro Aris et Focis
Grant Little
President – MCOBA