Update from an OC and Honorary Life Member
Dave Wimble (OC) shares memories of his time at College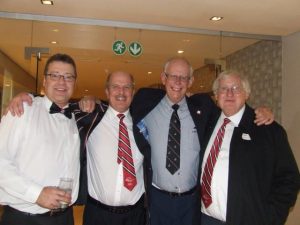 My association with College has been over a period of some 66 years. It commenced at a relatively low point, as a lowly "new gentleman" in 1954 when I answered calls from all points of the College grounds to the peak when I was elected an Honorary Life Member in 2001.
Graydon Sharrat in his head boy's speech on Speech Day 1986 extolled the virtues of the "ordinary College boys" who were in the majority of boys and who made College the great school it is. I certainly associate myself as one of them. It was when my eldest son went to College in 1986 that I suddenly found myself on the Governing Body and from 1987 I served as Chairman for close on five years. I met with Dudley Forde for a working lunch – sometimes lengthy – every Monday. At that time the school had no bursar and no computer – Ron Jury and I spent many weekends preparing the first meaningful budgets. Having persuaded the Governing Body to buy the school's first computer, timeous monthly management accounts were prepared and a Finance Committee was formed to discuss these and manage the increasing financial burden. It wasn't until I managed to find Gavin Wiggett as Bursar that the Finance Department took off as the efficient and indispensable sector of the school's administration that it is today.
When the Governing Body was officially set up in about 1986 under the Schools' Act, there was no provision for Old Boys' representation on the Body and Dudley Forde and I campaigned strongly, with no success, for this amendment. Consequently a resolution was taken by the Governing Body that not only would a member of the MCOBA  attend all meetings but also that at all times the Chairman would be an Old Boy. To my knowledge this has been complied with on all but one occasion.
After serving on the Governing Body I was elected to the Executive of the MCOBA and joined such stalwarts as Les Howard–Brown, Skonk Nicholson, Ted Reed and Peter Rodseth, all of whom had a passion for the school and its traditions and served for several years on that Body. We all had a close relationship with the two Headmasters of that time, Dudley Forde and Ken Elliott and worked together as a team with a strong bond. A group of us enjoyed meeting at the school one evening a month, phoning outstanding debtors in the absence of a Finance Department.
My greatest accomplishment and my swansong as President of MCOBA was when I persuaded Ken Elliott to finance the MCOBA with the funds it presently receives for school leavers.
By the time I was elected an Honorary Life Member in 2001 I had served some 20 years "of pretty active service" in the College community. It was a challenging and sometimes demanding but extremely enjoyable experience, meeting many old boys at meetings, social functions and dinners throughout the country and even in England on one occasion.
I am proud to have been offered the experience, I am proud to be an Honorary Life Member, I am proud of the boys, the old boys, the buildings, the traditions and most of all, I am proud of College.
Pro Aris et Focis