Visit to Isandlawana
An opportunity to explore sites of natural and historical significance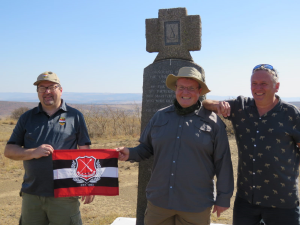 Isandlawana has always held a personal fascination to me, ever since I first visited as a youngster visiting my maternal Aunt living in Nqutu.
As an inhabitant of KwaZULU-Natal, the thought of my "local" army giving the mighty British Army, armed with modern weapons, a bloody nose, combined with the visual impact of the whitewashed cairn littered battlefield with its wide-open grassland stretching to the horizon make this a unique place for me.
This was long before I even knew about Maritzburg College or the association to our school. So having the opportunity to travel up to Dundee to share a birthday and engagement with some fellow school and Scout mates recently, we had the opportunity to explore some of the sites of natural and historical significance. The College Old Boys memorial was a very high priority to me given my current role within the MCOBA and the draw I had felt after reading up on our rich history.
We were blessed to have Thulani as our guide, who shied away from the usual jingoistic perspective and engaged in some fascinating anecdotes of the psychology of the Zulu nation and much of the pre battle preparation that lead to battle itself. Once again I was overwhelmed by the futility of this and so many wars since that lead to young men on all sides of the conflict(s) being plucked out of society to follow the whims of "vainglorious generals and their (Victorian) pride." After having paid our respects to the young men of College who still lay on the battlefield, and those nameless ones who survived, we clambered back into our Drakensberg Hiker landy and headed back for some ice cold refreshments to the strains of Juluka celebrating the day of camaraderie, fun and nostalgia.