Our 2019 Matric Results and Top Achievers
Congratulations to the class of 2019! The Form 6 class of 2019 have done themselves and the school extremely proud, and we congratulate them warmly. Our sincere appreciation and thanks to the dedicated staff who supported these young men so completely.
The class of 2019 achieved a 99.6% pass rate and an 81.2% Bachelors' Pass. Yusuf Akoo, our DUX of 2019, came fourth in the district. We also had 7 boys who achieved 7 distinctions each! There were also 333 subject distinctions. This is a significant achievement and we are immensely proud of our boys and staff!
Top Achievers in 2019 are as follows:
| | |
| --- | --- |
| 7 Distinctions | Y Akoo, J Collocott, LA Diedricks, SS Dlamini, M Essack, H Heeralal, JR McFarland |
| 6 Distinctions | MY Akoob, AD Budke, CC McKenzie, SE Mntungwa, ST Soorju, UBM Zuma |
| 5 Distinctions | TS Govindasamy, Z Ismail, CW Knight, NFG Lushozi, N Msiya |
| 4 Distinctions | A Abdool, M Badat, TR Drummond, A Essa, RR Himwanth, CDG Martin, MD Ryan, KN Smith |
| 3 Distinctions | LJJ Barnard, MTK Dlamini, DKH Dyer, K Harischandre, A Karrim, L Lenz, F Mahomed, LH Menezies, Z Saayman, V Soni |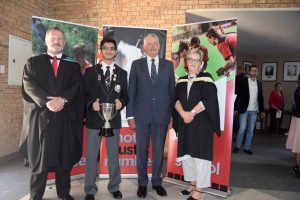 Speaking at the Sixth Form information evening, Yusuf Akoo addressed the new matrics of 2020 and gave an inspiring speech to motivate the six formers of 2020 into making the most of their final years at this great school.
"This year more than ever you need to realise that it is not cool or quirky to procrastinate or to brag to your friends about how little you studied for a paper. It's immature and laziness is not a fun personality trait, also don't listen to your friends who said they didn't study. They are lying. They've probably completed the terms syllabus already," he said. Akoo started his speech by saying that he is not academically gifted like some of his peers. He failed TD in Grade 9 and used to get 66% for mathematics. "I got to where I am today through hard work and sacrifices. I set targets for myself and worked towards achieving them 7 days before matric started last year. Starting to work from the offset is vital as it sets a tone for the rest of the year."
He encouraged the sixth formers to do your homework every day, actively listen in class and ask questions when they don't understand a concept. He said every student who is struggling with a subject, even the top students, to attend the extra classes after school. "The extra lessons usually allow you to process a concept and re-enforces the concept if you already understand it." In closing, Akoo urged the Class of 2020 to not have any regrets about their time spent at College and take all that College has to offer.
"Gentleman, you have 9 short months left at this great school. The most important 9 months of your life so far. Trust me when I say regret is the worst feeling to have. Maybe 2019 was not your best year academically but that's in the past now, it doesn't matter. You need to lift your chin up and learn from your mistakes. Your future is still in your hands. So push yourself, just for this year, you're more than capable. All the facilities are available to you, use them. Work your hardest this year, and even if you fall short, you will grow as a person and this will help you later in your life. I wish you everything of the best gentleman, make College proud.
Pro Aris Et Focis."