Celebrating 150 years of rugby on the African continent
Special event to celebrate the first rugby game played between College & Hermannsburg
On Wednesday evening, 7 October, boys, past and current staff and alumni from two of the oldest high schools in KZN gathered to honour the first rugby match played between their schools – 150 years ago almost to the day – on the old Market Square in Pietermaritzburg, on 8 October 1870.
On that day, teams from Hermannsburg (founded in 1856) and the old Pietermaritzburg High School (now Maritzburg College) (founded in 1863) played against each other at rugby, cricket and possibly soccer.
The rugby match kicked off at 14h00, with the local High School boys playing "up" from the Church of the Vow end. In a hard-fought match "of many struggles" (according to The Natal Witness), the local lads prevailed by two goals to nil against their opponents. The High School team was captained by George McFarlane, later a distinguished mayor of the town and officer commanding of the Natal Carbineers, and the Hermannsburg team was captained by B Lindley. A strong case can be made that this match was in fact the first recorded rugby match played on the African continent!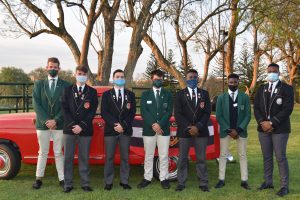 On Wednesday evening this week, last night attendees stood on College's home ground Goldstones, and enjoyed an anecdotal encounter of the history and relations between the two schools by College's Matthew Marwick and Hermannsburg's Mark Schulze.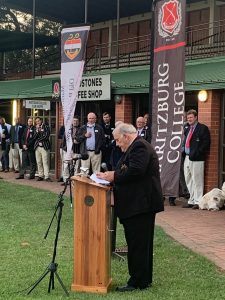 The evening included a drive by some of the members of the current 1st XV teams in an old truck across the ground, exchanges of commemorative gifts, and a toast to rugby by guest of honour, Dave Anderson, captain of Maritzburg College's legendary Centenary XV of 1963 (and himself a long-serving and distinguished master at his old school). One of the special gifts presented was a sketched depiction of the match by talented young local artist, Ms Shannon Bennetts.
The evening ended with a sombre and dignified procession by College's current XV through Nicholson's arch to receive their team jersey from their two coaches.