Use our College Sport APP
Accessing Sport Fixture & Result Information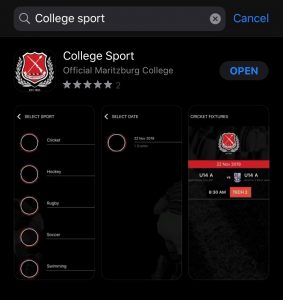 With the start of official sporting fixtures on campus, this is a reminder about our 'College Sport' App, designed to provide the College Community with information pertaining to weekly fixtures, teamlists, arrangements and results from the day or week's sporting activities. With the COVID-related ban on spectators for all our fixtures, using the App will ensure you have all the valuable information you need.
The App is easy to operate, does not require any logins or registrations, and is available for all devices. Simply download the App from your App Store/ Play Store and keep up to date with our #RedBlackWhite weekly fixtures and results.
Instructions for Parents
Weekly fixtures are published by the Sport Department and updated on the APP when confirmed.
The Sport Department will update fixtures as soon as they are confirmed, which may result in some matches being confirmed as early as Tuesday in the week. Teams where fixtures are still being finalised/sourced will have a PENDING status next to the team. (Please note in this instance the sport department is doing all it can to find a fixture for the team and will confirm as soon as it is available.)
The Sport Department prioritises finding fixtures for all teams and can still be searching as late at Thursday in a week. Please keep checking the App for any updates.
To view fixtures, please follow these steps:

Click Fixtures
Choose the SPORT
Choose the relevant DATE
The fixtures on that date are then displayed from the highest to the lowest team.
The HOME team is always indicated first – if the opponent is shown first on the fixture it is an AWAY game.

Fixtures are loaded for the CURRENT school week.
Another feature of the APP is the publishing of team lists. Sport staff and coaches will upload team-lists on the APP by Friday 11:30 for weekend fixtures or 24 hours before a mid-week fixture.
To view the team-list please follow these steps:

Click FIXTURES
Choose the relevant SPORT
Choose the relevant DATE
Click on the TEAM you are looking for
This will then display the FIXTURE PROFILE
Select TEAMLIST and it will display the names of the boys selected for that fixture

If the Fixture is an away Fixture and you wish to view the Bus Departure Time/Return Time

On the FIXTURE PROFILE of the team select BUS THERE and it will display the time of departure and return.
Enjoy using our APP.
Remember we will be livestreaming as much of our sport as possible via the DigiTV College TV channel accessible from our website.