This weekend, College took on long-time friend and rival Kearsney College in cricket, water polo and basketball fixtures. Fortunately the weather was much more favourable this weekend with some great games taking place, most of them at Kearsney.
Cricket
College had 12 cricket teams in action playing this weekend, most of which were against Kearsney. Overall results showed 8 wins and 4 losses for the #RedBlackWhite.
Our 1st XI played Kearsney at Kearsney; College batted first scoring 190 all out; Van Zyl 35, Gace 25, and Jacobs 40* all contributing with the bat. Kearsney replied with 159 runs all out; Simelane 2/28, Mckean 2/31, Laithwaite 2/30 and Hibbert 2/42 were the pick of the bowlers and saw College win by 31 runs.
College 2nd XI match against Kearsney was played at home on Goldstones. College opened the batting and scored an outstanding 401/3, with excellent contributions from "Boela" Delport 139, Ferrar 136* and Sparks 61. Kearsney's 2nd XI, were all out for 184, and College won by 217 runs.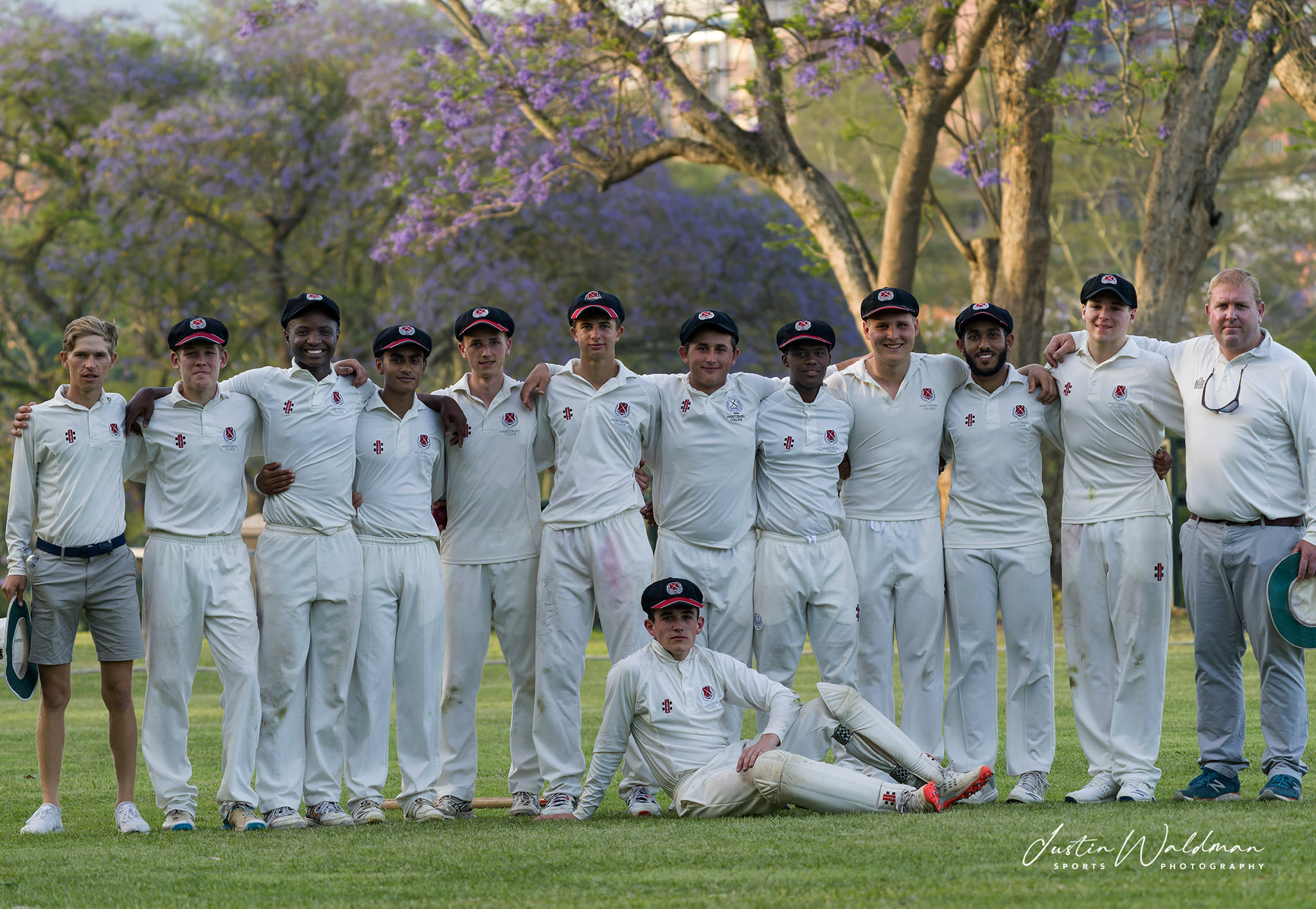 A victorious 2nd XI celebrated their outstanding 217-run victory on College's Goldstones
Credit: Justin Waldman Sports Photography
1st XI match report: Mr Robbie Coutts
The College First XI brought home a comfortable victory this past weekend, despite being under pressure for a large portion of the match. The team travelled down to Botha's Hill to take on Kearsney, on the picturesque AH Smith Oval. Kearsney won the toss and had no hesitation in sending College in to bat on a pitch that has assisted bowlers in the previous few weeks.
At the start to the bowling innings, the Kearsney bowling attack thrived in the conditions taking wickets at regular intervals, a mixture of poor shot selection and good bowling put College in the precarious position of 73 for 5. Jonathan van Zyl and Keyan Gace worked hard in the difficult conditions for a forty run partnership. The College lower order through Luc Jacobs changed the momentum of the game in the closing overs, Jacobs batted intelligently, running well and punishing any loose deliveries, his 40 off 19 balls getting College to a defendable 190 all out.
Kearsney got off to a reasonable start, the opening partnership of 26 was broken by Andile Simelane who bowled with good pace and aggression. Simelane made it 31 for 2, 9 balls later with Makabongwe Ngcobo taking a good catch at slip. At the end of the first power play, Kearsney were 42 for 2. Mark Laithwaite broke the 4th wicket partnership of 41 on the stroke of tea, the game was evenly poised with Kearsney on 93 for 4 after 25 overs. College missed 2 opportunities straight after tea, but they never allowed the Kearsney batsmen to settle or any partnerships to develop. Apart from the two missed opportunities, the College fielding was impressive and with disciplined bowling, ensured Kearsney were always under pressure, with two great catches coming from Gace and Simelane. The game ended with Gace executing a runout after a great stop at mid-off to bowl Kearsney out for 159, ensuring a well-deserved 31 run win.
Scores in brief:
College 190 all out; Jacobs 40*, Van Zyl 35, Gace 25
Kearsney 159 all out; Simelane 2 for 28, Hibbert 2 for 42, Laithwaite 2 for 30, McKean 2 for 31. College won by 31 runs
Summary of Results:
Team
Results
1st
1ST XI COLLEGE 190 ALL OUT VAN ZYL 35 GACE 25 JACOBS 40*
KEARSNEY 159 ALL OUT SIMELANE 2/28 C MCKEAN 2/31 M LAITHWAITE 2/30 C HIBBERT 2/42
COLLEGE WON BY 31 RUNS
2nd
COLLEGE 401-3  DELPORT 139 FERRAR 136* SPARKS 61
KEARSNEY 184/10
COLLEGE WON BY 217 RUNS
3rd
3RD XI  (T20) COLLEGE 169/4 GONCALVES 78 QUIN 63
KEARSNEY 149/7 OFF 20. O'CONNOR 3 FOR 23
COLLEGE WON BY 20 RUNS.
4th
COLLEGE 167/3; PASCOE 50 *, B THOMSON 46
KEARSNEY 100/10; PRATT 4/28 IN 4OVERS
COLLEGE WON BY 67 RUNS
15A
COLLEGE 15A 195/10
KEARNEY 198/4
COLLEGE LOST BY 6 WICKETS
15B
KEARSNEY MADE 123/7 IN 20 OVERS
COLLEGE MADE 117/4 IN 20 OVERS; J KNOETZE 61 NOT OUT
COLLEGE LOST BY 7 RUNS
15C
KEARSNEY 123 ALL OUT
COLLEGE 124/7
COLELGE WON BY 3 WICKETS
15D
COLLEGE U15D VS LINPARK U15B
LINPARK 135/9 (20 OVERS)
COLLEGE 120/5 (20 OVERS)
COLLEGE LOSE BY 15 RUNS.
14A
COLLEGE 267/9; NADASAN 70, DEDEKIND 82.
KEARSNEY 152/10;
GWALA 4/27
COLLEGE WON BY 113 RUNS
14B
KEARSNEY 14B 116/7 COLLEGE 117/7 COLLEGE WON BY 3 WICKETS
14C
COLLEGE BATTED FIRST SCORING 144. J. STEYN 37 AND G SMYTHE 34, K. SINGH 24 NOT OUT .SCORING 144. NORTHDALE HUB BATTED 2ND SCORING 123/3. TYRALL SCORING 52.
COLLEGE WON BY 21 RUNS
14D
COLLEGE U14D VS HUB TEAM LOST BY 8 WICKETS.
Waterpolo
Mr Darren Sherriff, Director of Aquatics
Over the weekend the 1st water polo team travelled to Kearsney for the fixture. In what started as a close encounter in the first chukka, Kearsney started to increase their lead in chukka's 2 and 3. In a strong effort from the College players, they managed to close the gap but were unable to catch up and went down 4-6. Z Rowe had a superb performance in goals, stopping 4 penalties.
Summary of all results vs Kearsney
Team
Opposition
Score
Result
1st
Kearsney
4 – 6
Lost
2nd
Kearsney
6 – 9
Lost
3rd
Kearsney
5 – 9
Lost
U15B
Kearsney
7-6
Won
14A
Kearsney
0 – 13
Lost
Played
5
Won
1
Lost
4
Basketball
1st team report: Ms Zinhle Cele, College Basketball
On Saturday, College basketball took a larger number of teams to an away fixture than it has all year. Having faced Kearsney three times this year and been unsuccessful every time, tensions were high from the start of the day. The u14A team hit the ground running with an impressive win at the start of the day. Unfortunately, that glory was short lived as many of the other teams seemed narrowly outmatched by Kearsney.
When time came for first team to step up, the energy in the room was electric. The game was high stakes for both sides with Kearsney facing the pressure of extending their 3 game winning streak and College coming in as the underdogs. To add insult to injury, one of College's quickest and most skilful players, TL Zimu, suffered a devastating injury the day before the game. Undoubtedly this would've thrown a spanner in the works for College. True to form, however, Zimu still showed up, crutches and all to cheer on his team. The boys fought hard and stole the lead early, it was an incredibly fast-paced game with hardly a moment to blink for officials. In the end, despite an impressive 19-point game by 3rd former L Dlamini, College just couldn't keep their lead and succumbed to Kearsney in the end.
 Summary of Results 
Team
Opponent
Score
Result
1st
Kearsney
57-66
Lost
2nd
Kearsney
26-46
Lost
3rd
Kearsney
14-39
Lost
4th
Kearsney
12-17
Lost
5th
Kearsney
11-29
Lost
15A
Kearsney
17-24
Lost
15B
Kearsney
20-24
Lost
15C
Kearsney
11-34
Lost
15D
Kearsney
8-25
Lost
14A
Kearsney
28-25
Won
14B
Kearsney
21-18
Won
14C
Kearsney
33-17
Won
14D
Kearsney
39-8
Won
14E
Kearsney
11-10
Won
Overall Summary
Played
14
Won
5
Lost
9
Canoeing
College's canoeists took part in this week's race at Shongweni posting the following results:
U18
3rd           J. Goble & J. Glyn-Cuthbert
10th        N. Cook & J. van den Bergh
12th        R. Finnie & S. Adie
13th        J. Sharpe & C. Adam
U16
9th           J Odell & S Norton
U14
3rd           L. O'Connor & J. Jansen van Rensburg