Good morning ladies and gentleman, invited guests, parents and boys of Maritzburg College. May I extend a special word of welcome to our Guest of Honour, Mr Keith Guise-Brown, and former senior deputy headmaster, who will be formally introduced by our Head Boy, Keagan Goddard.
Thank you, one and all, for taking the time to celebrate the academic, sporting and cultural endeavours of our Form 2 to Form 5 boys.
It is appropriate at this public occasion to thank the Chairman, Professor Jeff Finnie, and members of the School Governing Body for their commitment and service to College over the past year through this very difficult time.
We are indeed fortunate to have such a passionate group of people looking after the best interests of the boys and staff. I wish to single out the Chairman, Professor Finnie, for his support, passion and significant commitment to College – his efforts are sincerely appreciated. It is appropriate to thank Mr Ashley Cotterell, SGB Treasurer,  who is unfortunately ineligible for re-election. We thank him for his outstanding commitment and service to College over the past two years. The SGB by- election will take place in early next year.
Generally, the end of an academic year at a school brings much excitement with it, but there is a downside in terms of staff farewells. Unfortunately, we have to say goodbye to staff members who are embarking on new chapters in their lives. At the final dedication assembly yesterday, we acknowledged all the departing staff, but I would like to formally mention the most senior and long serving of them at this occasion as well and thank them for their significant contribution to College:
Mrs Gerda Talke has been on the staff for the past 14 years and has fulfilled a number of roles;  including Afrikaans teacher, hockey coach, MIC Afrikaans Society and ATKV as well as a passionate mentor of young men. She is taking early retirement and relocating to the Cape to spend more time with her husband Ingo and family.
Mr David Maistry  has been on the staff since 2014 and has climbed the ranks within the school in a relatively short period of time from Subject Head of Mathematics, to HOD Maths to Deputy Head: Operations,  taking over from his mentor Mr Bryan Dibben. Mr Maistry is retiring to follow his passion as a minister in the church and to also spend more time with his family.
Mr Brandon Swart [OC 2001] returned to the staff in 2015 after a short sabbatical in the business world. Since his return he has also climbed the ranks very quickly to be one of the youngest Deputy Heads in Education, fulfilling the following roles;  teacher of English and History, mentor, BE master, Housemaster of Hudson House, Head of Leadership, a passionate MIC of Speakers Circle, Director of Hockey, 14A hockey coach  and 1st XI coach and finally as Deputy Head: Cocurricular and more recently the significant role as Covid Compliance Officer for the past 21 months. Mr Swart is resigning to follow other career opportunities.
 Mr Ingo Talke joined the staff in January 1993 and has fulfilled a number of roles over the years; Afrikaans and Geography educator, very successful rugby and cricket coach, mentor of both boys and staff, Subject Head of Afrikaans, Director of Discipline, Deputy Head: Pastoral Care and then for the past two years, Senior Deputy Headmaster. Probably Mr Talke's most significant contribution over the past 8 years has been leading our pastoral care programme and the significant change in how we do things at College from a mentoring perspective. More recently, we embarked upon the Character Education: Good Man Journey. I am personally very grateful for his passion, commitment and dedication to this crucial aspect of the holistic education of our young men. Mr Talke is retiring to the Cape to spend more time with Gerda and his family, and he can look back with a sense of pride and accomplishment on his 29 years of dedicated service to College and the community.
Despite the farewells, I am very happy to report that we are almost fully staffed from January 2022.
Looking back on the year, COVID 19 and PMB July protests, I am uncertain whether parents and boys are fully aware of the huge sacrifices and commitment that our staff make on a daily basis to ensure 'what is best for their boys' at the end of the day. The role of the teacher has become more complicated and onerous over the years, and more and more responsibilities are being placed on their shoulders.  I am eternally grateful and indebted to them for what they do for your boys. Finally, I wish to thank all members of EXCO, and colleagues on the academic, sporting, cultural and boarding fronts, as well as the Administrative, Catering and Estates staff at College, who are often the unsung heroes of this huge machine.
Message for the boys:   Character Education
In 2019, we as a school as part of our pastoral care mentoring programme, embarked upon an international best practice research model viz The Pathway to Excellence: Becoming a Good Man. We entitled it "Character Education: The Good Man Journey".
We participated in this programme in our endeavours to ensure that our boys are continually striving to be the best that they can be with the support of their teachers and mentors. Through our involvement in international research, we are now able to benchmark ourselves both nationally and internationally. The findings of this research which involved both our teachers and boys, will be shared at the start of 2022. 
Unfortunately, over the past two years due to the impact of Covid-19, the programme has been severely affected and we hope to resume the full programme in 2022.
The following are the Top 8 Findings from recent international research conducted by Adams and Cummins on Character Education in Schools for Boys:
 We are called to Excellence in developing Character
Research seems to suggest that the fundamental purpose of an excellent education should be the development of the whole character of the boy.
Character is why we do school
The development of whole young men of character; men who fulfil their potential, and live with the integrity of a set of beliefs about what is good and right, is the most fundamental reason for any school to exist. It is the purpose of school. 
What teachers think about Character matters
What teachers think and feel about character and its relationship to their educational purpose shapes and directs the development, attainment, and measurement of 21st Century civic education i.e.  Civic education empowers us to be well-informed, active citizens and gives us the opportunity to change the world around us.
Character is the whole work of a school
How we think about our character practice and connect this to the context, design, and experiences of character learning across all aspects of a school. It helps us to locate and assess our work through a coherent model of character education that describes how learning occurs within a community of inquiry and practice.
Character development relies on relationship
The quality of character learning in a school is largely the product of specific learning relationships of character apprenticeship in which competency is crafted. It is also the way that those relationships bring together all learners in a community of inquiry and practice that is sharply focused on improving delivery of the school's academic outcomes.
Character education works best when it's deliberate, targeted and intentional
This requires the adoption of a strategic approach to building the right learning culture. It also requires collaborative development of a conceptual and documentary framework for education, that will help a school move beyond being just intentional to becoming a school of character in every respect.
School leaders show the way forward
School leaders build character capital in a school community through their character labour, especially through role modelling and development of character competency; character education efficacy results from their will and their capacity to embed a shared commitment to "what we want, why we want it and how we do" it in character education.
A good school focuses on the whole education of the whole person; a great school assembles the ingredients of high-performance culture in delivering this education
A great school, a school of character, identifies the "secret sauce" of aspirations, a sense of camaraderie, and pathways to success, and applies this to a culture of inspiration, challenge, and support. This culture fosters both the pursuit of excellence by young people of character, and the sense of belonging to and engagement in school.
I will now share a poem with you on character entitled "Ripples from the Well" by anonymous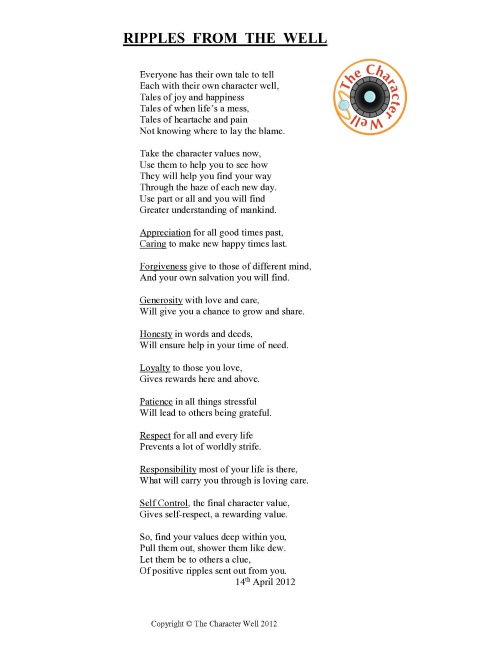 To conclude: 
We are gathered here today to celebrate the excellent results of a large number of our most academically competent and hardworking boys. You and your parents can feel collectively proud of these achievements. Those of you receiving awards today have certainly seized your opportunities and have earned our admiration and respect. To excel at school takes determination, effort and a positive 'can – do' attitude.  To all prize-winners: Congratulations on your success.
I wish you all a very happy, healthy and safe holiday, a peaceful Christmas and a prosperous New Year.
Stay safe and healthy.
God Bless 
Pro Aris et Focis