Overview Sporting Achievements
The holiday was a busy time for Maritzburg College's hockey and rugby teams, who took part in a number of festivals and tournaments around the country. In addition, College hosted both the U14 Nomads hockey festival and the Skonk Nicholson U14 & U16 rugby tournament on our campus. College's golf team participated in the Affies tournament finishing 6th overall. Two boys also competed for KZN in the ASA National Athletics championships bringing home three silver medals.
Hockey
College's hockey teams took part in six festivals over the holiday. The 1st XI, U16A and U14 teams took part in the Nomads festivals. The 2nd XI participated in the Keith Fairweather tournament at Hilton College, the U16B side travelled to take part in the Mercian hockey festival and the U14B were at Northwood for the Ken Florens tournament.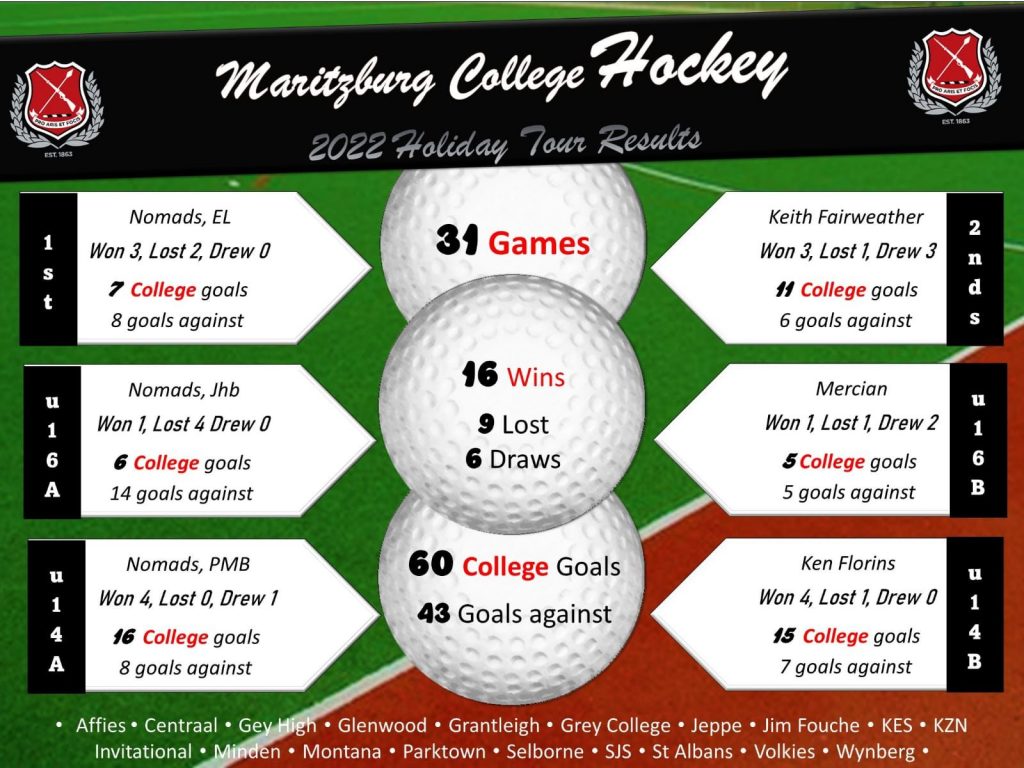 College's 1st XI took part in the Nomads U18 festival from 26 – 28 March at Selborne, winning 3 of their five games.
1st XI vs St Johns lost 1-3
1st XI vs Jeppe lost 1-4
1st XI vs Wynberg won 2-0
1st XI vs Selborne won 1-0
1st XI vs Grey College won 2-0
The 2nd XI took competed in the Keith Fairweather festival at Hilton College.
2nd XI vs Linden drew 0-0
2nd XI vs Sentraal won 4-0
2nd XI vs Volkies won 3-2
2nd XI vs Jeppe drew 1-1
2nd XI vs Jim Fouche lost 1-0
2nd XI vs Grantleigh won 2-1
2nd XI vs Grey College drew 1-1
The U16A side also took part in the Nomads festival, hosted by KES
U16A vs Wynberg lost 0-4
U16A vs St Johns College won 2-1
U16A vs Jeppe lost 2-3
U16A vs Grey High lost 0-2
U16A vs Grey College lost 2-4
College U16B team competed in the Mercian Hockey festival held at Jeppe.
16B vs St Johns College drew 0-0
16B vs KES lost 1-2
16B vs JEPPE won 2-1
16B vs St Alban's drew 2-2
16B vs St Benedict's – cancelled due to weather
College hosted the Nomads U14 Festival from 26 – 28 March on campus, with the U14A side being undefeated and posting excellent results.
U14A vs St Johns drew 2-2
U14A vs Jeppe won 4-0
U14A vs Wynberg won 4-0
U14A vs KES won 4-0
U14A vs Grey High won 2-1
The U14B side took part in the Ken Florens festival hosted by Northwood in Durban.
U14B vs Northwood invitational lost 0-7
U14B vs Parktown won 6-0
U14B vs Montana won 3-0
U14B vs Glenwood won 3-0
U14B vs Affies won 4-0
Rugby
College hosted the Skonk Nicholson U14 & U16 Rugby festival over the holiday; the 1st and 2nd XV teams took part in the Fichardtpark Festival, and the U15A team competed in the Francois Swart festival. Both the 1st XV and U14A sides were undefeated having very good tournaments.
Fichardtpart festival (1st and 2nd XV)
1st XV vs Fichardtpark 1st XV won 63-7
1st XV vs Ligbron 1st XV won 47-13
2nd XV vs Ligbron 1st XV lost 5-35
2nd XV vs Hentie Cilliers 1st XV lost 12-32
Skonk Nicholson Tournament
U16A vs Garsfontein lost 17-20
U16A vs HTS Middelburg won 38-11
U16A vs Dr EG Jansen lost 10-23
U14A vs Garsfontein won 38-0
U14A vs HTS Middelburg won 35-0
U14A vs Dr EG Jansen won 11-7
U14B vs Sasolburg won 38-12
U14B vs Potchesfstroom Volkskool lost 5-15
U14B vs Zwartkop lost 0-39
Francois Swart U15 festival
U15A vs Noordheuwel lost 14-31
U15A vs Helpmekaar lost 0-27
U15A vs Garsfontein cancelled due to weather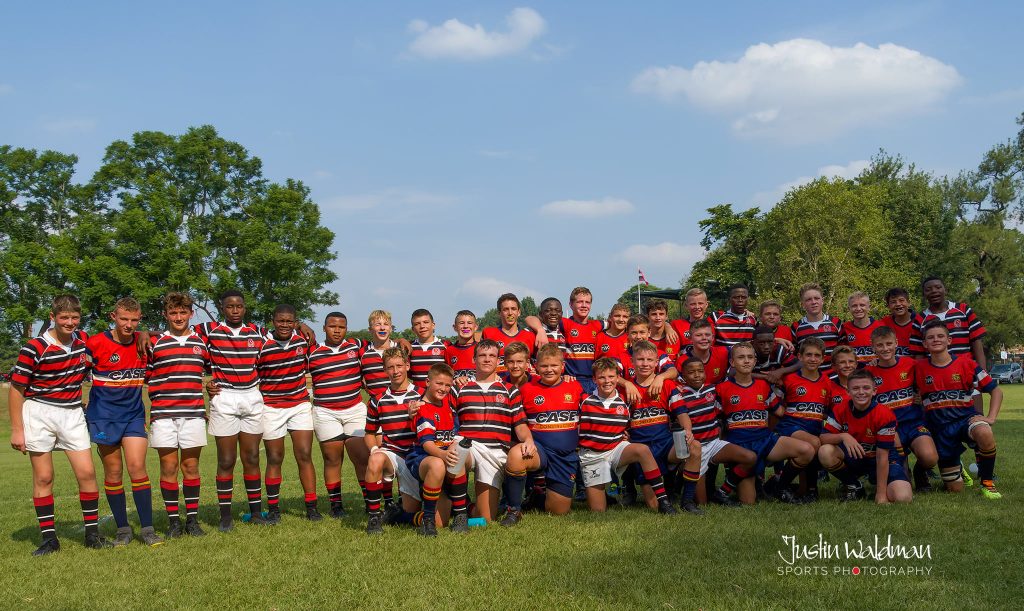 Caption: College's U14 team pictured with opponents HTM Middelburg were undefeated in the Skonk Nicholson festival hosted on the school's campus.
Credit: Justin James Sport Photography
Athletics
College's Neo Mosebi and Ryan Stockhil competed for KwaZulu-Natal in the ASA National Athletics Championships, with both boys bringing home silver medals.
Neo Mosebi finished 2nd in the 100m in 10.23s and 2nd in 200m in 20.95s. Both 100m and 200m times are qualifying times for the under 20 World Championships.
Ryan Stockill was 2nd in the High Jump clearing 1.98m in wet conditions.
Golf
College golfers travelled to Gauteng to take part in the Affies tournament, finishing 6th out of 12 teams.
Bowls
Caleb Janse van Rensburg competed in the Bowls South Africa U20 tournament for the Natal Inland A side in Bloemfontein, and the team finished in 2nd place.