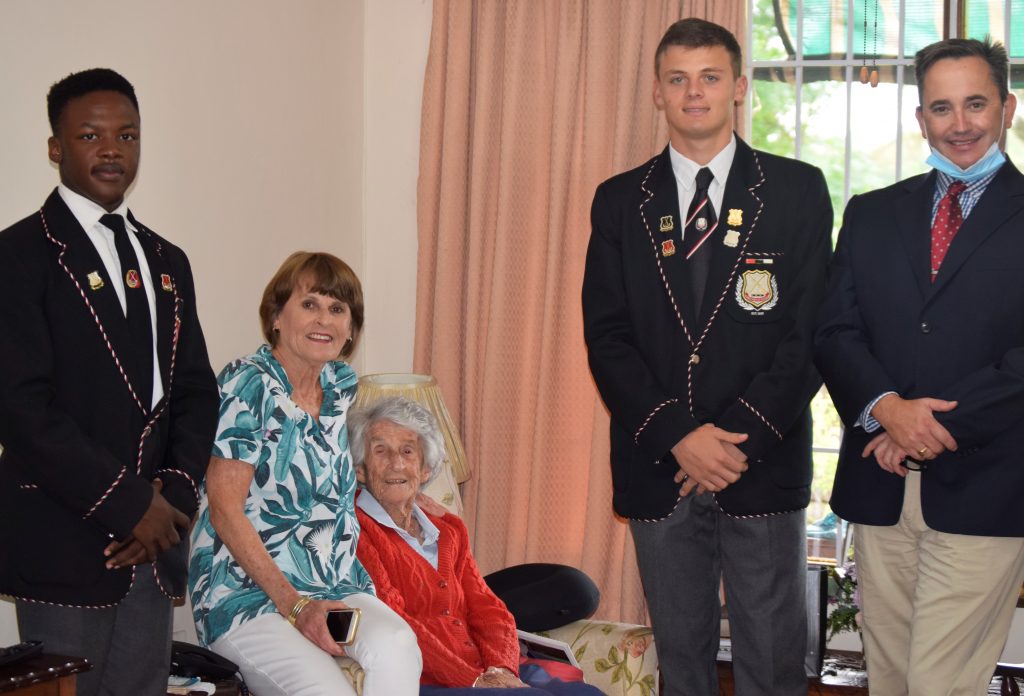 Today, Maritzburg College extends our warmest best wishes and congratulations to Mrs Gwen Strachan, wife of the late J.R. "Roy" Strachan, former Deputy Headmaster of Maritzburg College, on the occasion of her 101st birthday.
College's current Senior Deputy Headmaster, Mr Matthew Marwick together with the leaders of Strachan House, Zibusiso Shongwe and Sean Gibson visited Mrs Strachan to wish her a very happy birthday and deliver some small gifts.
John Roy Strachan joined the College staff in 1951 as a Maths teacher, and was appointed the Second Deputy Headmaster in 1962, a position he held until he retired in 1978. Described as one of the best maths teachers that College has had, he was well respected by the boys he taught. An active sports coach, who loved College, Roy was also a man of high principles and his sound advice was valued by the Headmaster and staff alike.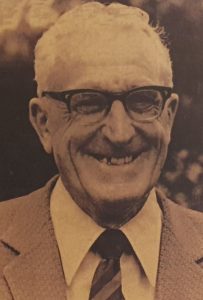 J.R. "ROY" STRACHAN
Member of Staff 1951 – 1978
Second Deputy Headmaster 1962 – 1978 
John Roy Strachan (he was always known by his middle name) was a most conscientious teacher who brought interest and light to the minds of many of his pupils as they battled with the problems of mathematics. Despite his M.A. degree in history he switched to the teaching of mathematics and by sheer application developed into one of the best maths teachers that College has had.
He worked easily and happily with boys and staff alike. Known affectionately by the boys as "Cabbage", he took a deep interest in their activities and progress, and it is not surprising therefore that between Mr Strachan and the boys there developed a strong bond of mutual respect.
Totally involved in the life of the school and its activities, he coached rugby, cricket and tennis and refereed rugby matches. However, his great love was athletics and for a period of 17 years this sport was under his direct care and control. In his own quiet way he inspired his teams and as a result during this period, College won 11 out of the 16 Quadrangular relay sports meetings. During his term as secretary of this meeting, under his wise guidance, the sports always ran smoothly and well. He had the happy knack of being able to organise and encourage others to give of their best and did this in such an unobtrusive way that people, not closely connected with him, hardly realised that his was the guiding hand.
Roy was a man of high principles and if he felt that something was wrong, or not in the interests of College, he never hesitated to speak up, putting his views forward frankly and without ambiguity. As a result his sound advice was valued by the Headmaster and staff alike.
There is no doubt that Roy Strachan greatly loved College. He worked with energy and a real sense of pleasure in the classroom, on the playing fields and in many other school activities, setting a fine example for others to follow. He gave of his best at all times and was tireless in his labour for the good of the school. The boys, who passed through his hands, will not easily forget his help, advice and tuition.
He served as a gunner in the 12th Light Anti-Aircraft Regiment in North African and Italy during the 2nd World War (1939-1945). The old bicycle that stands in the College Museum was his habitual means of transport to the school. He bought it with his army gratuity in 1947.