Easter Message
Mr Ron Barbour delivered an Easter message to the boys and staff.  
In his address, he reminded us that, for Christians, Easter is the singular most significant, defining moment in Christian history – the miracle and the joy of Christ's resurrection. Easter connects Christian believers to eternal love, eternal life, and eternal purpose. Christ's resurrection reveals the ultimate victory of love over hate, hope over despair, grace over sin, and life over death.
THEME OF THE WEEK – TRUST
Quote: Trust is earned when actions meet words – Anon
Last week we spoke about being honest with oneself and now we focus on TRUST!
The two are closely integrated and very similar.
TRUST can be defined as: 'a firm belief in the character, strength, or truth of someone or something '
What does it mean to trust someone?
If you trust someone, you believe that they are honest and sincere and will not deliberately do anything to harm you.
Why is it important to be able to trust someone?
Its presence cements relationships by allowing people to live and work together, feel safe and belong to a group. Trust in a leader allows organizations and communities to flourish, while the absence of trust can cause conflict and discontent.
How can a lack of trust impact your life?
It can lead to various anxiety disorders including agoraphobia, and becoming socially withdrawn. If severe, a lack of trust can cause somebody to feel hopeless, depressed and possibly consider harming themselves or suicide. Low self-esteem and a lack of confidence are also common among people who lack trust.
What are some of the most effective ways to build trust?
Value long-term relationships
Trust requires long-term thinking. It might seem convenient in the moment to blame someone else or to make decisions that benefit you in the short term. But before you act, think about how they may affect how others perceive you in the future.
Be honest
Developing a reputation as someone who is dishonest is one of the fastest ways to erode trust. Always tell the truth, even if it's awkward; don't give people an opportunity to catch you in a lie.
Honor your commitments
A trustworthy person does everything in their power to stick to agreements they've made. If you make a promise, follow through on it. Avoid making promises that you might not be able to keep.
Admit when you're wrong
People don't like to hear excuses. If you do something wrong, it's best to just be upfront about it. If you realize you were incorrect about something, own up to it. Being vulnerable enough to admit fault can humanize you and make you appear more trustworthy. Admitting mistakes is also part of being honest.
Communicate effectively
Trust can be easily damaged by miscommunication. Try your best to communicate in a way that doesn't leave room for misinterpretation.
If you aren't sure about something during a conversation, ask questions to clarify. 
Listening is just as important as speaking for effective communication. Make sure that you give others a chance to talk. It will show that you care if you genuinely listen.
Be vulnerable
Being open about your emotions and showing some feelings can help with building trust. It shows that you care and that you're a person too. 
Be helpful
Someone who is trustworthy will tend to go out of their way to help people if they can. Not because of some agenda or because they expect to get something out of it. But because they're genuinely a good person.
Show people that you care
People will naturally trust you more if they feel like you're truly interested in them. Remembering little details like the name of a co-worker's child, or asking how their weekend was is a good place to start. Even something as simple as remembering and saying someone's name can show that you care. As Dale Carnegie once said, "A person's name is, to that person, the sweetest, most important sound in any language."
Stand up for what's right
People respect honesty. 
Be transparent
As long as you can explain what you're doing and why you're doing it, most people will be able to understand.
Finally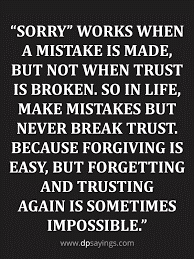 SPORT
This weekend, College welcomed over 700 boys and staff from Pretoria Boys high to the campus for a full round of sporting and cultural activities, including rugby, hockey, squash, table tennis, mountain biking, chess and golf.
College won 22 of their 25 rugby games played against Pretoria Boys High School, losing just 3. Our 1st, 2nd, u16A, u15A and u14A teams enjoyed good wins on a day which saw many supporters gathering on Goldstones despite the rain and cold. There were 18 hockey teams in action, with College winning 9, drawing 5 and losing 4. All the games were close ones, with 26 goals for our RedArmy teams and 14 against.
Full details of all the weekend's results are here.
Our best wishes to the teams taking part in the St Stithian's Sport Festival from 13-18 April.
MUSIC AWARDS and HOUSE MUSIC RESULTS
Congratulations to all the following boys who achieved good results in their recent music exams:
Lethokuhle Luthuli:         Theory Unisa Grade 2 Merit
Saiushan Naaidoo:           Theory Grade 2 Merit
Jamie Kloppers:                 Theory Unisa Grade 4 Distinction
Sohan Bridglall:                 Theory Unisa Grade 3 Roll of Honour (Above 90%)*
Thiren Govender:             Drums Rockschool Grade 6 Pass
Kanhaiya Ramharak:       Piano Trinity Grade 6 Distinction
Judah Conolly:                  Saxophone Trinity Grade 7 Distinction
HOUSE MUSIC RESULTS
Congratulations to all houses, and the boys and staff on the quality of performance and commitment shown for our Inter-house music. According to the adjudicators this is the highest standard since the introduction of this event. Well done!
| | | | | | |
| --- | --- | --- | --- | --- | --- |
|   | HOUSE SOLOIST | HOUSE BAND | HOUSE PERFORMANCE | FINAL POSITIONS | POINTS |
| 1 | Fuller | Calder | Fuller | Fuller | 278 |
| 2 | Pape | Fuller | Snow | Calder | 263 |
| 3 | Barns | Forder | Calder | Pape | 241 |
| 4 | Calder | Commons | Nicholson | Commons | 228 |
| 5 | Lamond | Pape | Pape | Snow | 228 |
| 6 | Commons | Snow | Strachan | Forder | 222 |
| 7 | Nicholson | Nicholson | Lamon | Nicholson | 221 |
| 8 | Forder | Lamond | Barns | Lamond | 220 |
| 9 | Strachan | Strachan | Commons | Barns | 210 |
| 10 | Snow | Barns | Forder | Strachan | 205 |
Wishing all our College community a blessed, happy and safe Easter long weekend.
Pro Aris et Focis
CL Luman (Headmaster)