Overview Sporting Achievements
It was a great pleasure to welcome back on the campus one of College's oldest friends and rivals, Durban High School, for a full round of rugby and hockey matches. Earlier in the week we had a number of soccer matches with good results for the #RedBlackWhite teams.
However, without doubt the biggest sporting highlight for Maritzburg College this week was the outstanding 100m run by 6th former Neo Mosebi at the ASA National Track and Field Championships.
Athletics
College's 6th former Neo Mosebi, took bronze at the ASA Track & Field Athletics Championship, finishing just a few split seconds behind winner Akani Simbine in the Men's Senior 100m race. Neo ran an excellent 10.34 just behind Akani's winning 10.31 time, an outstanding run for this talented youngster who has a bright future ahead of him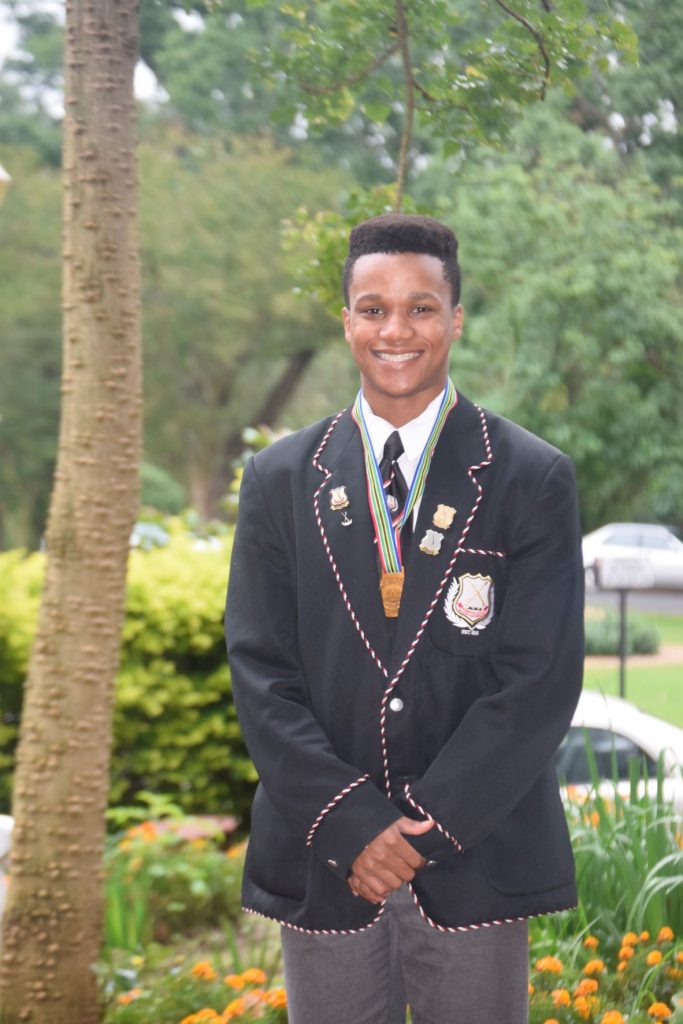 College's Neo Mosebi with his bronze medal following his outstanding run into 3rd place at the ASA Track & Field Athletics Championship.
Rugby
College won 19 of their 25 rugby games played, losing 5 and drawing 1. Our 2nd, u16A and u15A sides enjoyed convincing wins, although the U14A and 1st teams lost their games to strong DHS opposition sides. Sadly for College, this, the 11th time the two schools 1st XI teams have competed for the Skonk Nicholson trophy, saw the trophy return to DHS.  The match was an enthralling spectacle for the away set of supporters but a gut-wrenching one for the home fans. Maritzburg College had much of the territory and possession in the game but somehow contrived to give the ball away needlessly to DHS who needed no encouragement to punish a wasteful College team.
1st XV March Report (Mr Tim Orchard, 1st XV coach)
On Saturday, Goldstones played host to College's longest rugby rivals, Durban High School in another encounter which promised to entertain the expectant crowd. DHS had come off a good set of results at the Kearsney Easter Festival, whilst Maritzburg College were looking to get their season going again after an indifferent set of results up at the St Stithian's Easter Festival.
DHS started the game in their usual manner of moving the ball quickly to the outside to take advantage of any mismatches that may be found there. The first try was DHS's, when the College fullback instead of catching a speculative kick on the full let it bounce and palmed into a DHS player's hands, who raced across the try line in sheer delight. DHS scored again in quick succession after a slick lineout move allowed their hooker to crash over in the corner to further extend their lead. College scored next when Luyanda Kunene lunged over a ruck two metres out to put College back in the match. With the conversion successfully kicked over, College looked to put things right but alas another wasteful error proved to be their downfall. A kick was charged down and DHS recycled the ball to allow their winger to race away and shatter the hearts of many College supporters. College looked to get back into the match, and after several promising phases managed to spurn an almost certain try when a player tucked the ball and sought contact instead of passing it to the queue of players lining up on his outside. This try would put College back in the match at a crucial time but now DHS could breathe a lot more easily after their very lucky escape. The score line was 19-7 to DHS at half time.
DHS started the second half in the same manner as the first which eventually led them to march deep into the College half. A poorly time tackle allowed DHS to kick the resulting penalty five metres from the College try line. From the resulting lineout drive, DHS exposed a slow to react defence and with some smart footwork waltzed over the chalk for their fourth try of the afternoon. College again looked to get back in the match, but a sense of déjà vu quickly emerged when a wasteful pass allowed the DHS flyhalf to scoop a loose ball and race away for a try from deep within his own half. DHS scored their sixth and final try of the afternoon when their hooker dived over from an encouraging lineout maul. College eventually scored their second try of the afternoon by playing the sort of rugby they are capable of when Keagan Goddard slid over to round off a well worked team try. This put the score at 38-14 with the match firmly on DHS' hands. When the final whistle echoed around Goldstones, the sense of pride from the travelling supporters was palpable as DHS recorded their largest win on Goldstones in the history of this fixture. For the College supporters the afternoon was one of extreme frustration as they counted the cost of the many individual errors which led to DHS tries and the poor decision making which cost College two certain tries at vital moments of the match.
Maritzburg College 14
Tries- Luyanda Kunene and Keagan Goddard
Conversions- AJ Knoetze x2
Durban High School 38
Tries – x6
Conversions – x4
Summary of Scores: 
| | | | | |
| --- | --- | --- | --- | --- |
| Team | Opposition | Venue |       Win/Lose | Score |
| 1st | DHS | Goldstones | Lost | 14-38 |
| 2nd | DHS | Goldstones | Won | 18-5 |
| 3rd | DHS | Goldstones | Won | 33-5 |
| 4th | Greytown 1st | Goldstones | Drew | 14-14 |
| 5th | DHS 4th | Goldstones | Won | 50-0 |
| 6th | Hilton 6th | Lamond's | Won | 27-6 |
| 7th | DHS 5th | Goldstones | Won | 20-12 |
| 8th | Hilton 8th | Lamond's | Won | 43-0 |
| 9th | Greytown 2nd | Lamond's | Lost | 5-17 |
| | | | | |
| 16A | DHS | Goldstones | Won | 13-12 |
| 16B | DHS | Snow's | Won | 42-5 |
| 16C | DHS | Lamond's | Won | 62-5 |
| 16D | DHS | Nicholson's 1 | Won | 39-0 |
| 16E | Greytown 16B |  Leach's | Lost | 19-22 |
| | | | | |
| 15A | DHS | Snow's | Won | 7-3 |
| 15B | DHS | Snow's | Won | 10-0 |
| 15C | DHS | Nicholson's 1 | Won | 32-5 |
| 15D | DHS | Nicholson's 1 | Won | 39-0 |
| 15E | DHS | Nicholson's 2 | Won | 52-12 |
| 15F | Greytown 15B |  Nicholson's 1 | Lost | 5-43 |
| | | | | |
| 14A | DHS | Snow's | Lost | 0-28 |
| 14B | DHS | Snow's | Won | 26-7 |
| 14C | DHS | Leach's | Won | 26-5 |
| 14D | DHS | Nicholson's 2 | Won | 50-0 |
| 14E | DHS | Nicholson's 2 | Won | 53-0 |
Hockey
All of the 13 hockey matches played were against DHS with College winning 7, drawing 2 and losing 4 games. The 1st, 2nd and 3rd teams all had good wins with the 1st XI having a close game and securing a great 2-1 victory. Our U14A remain undefeated for the season so far winning their game 1-0.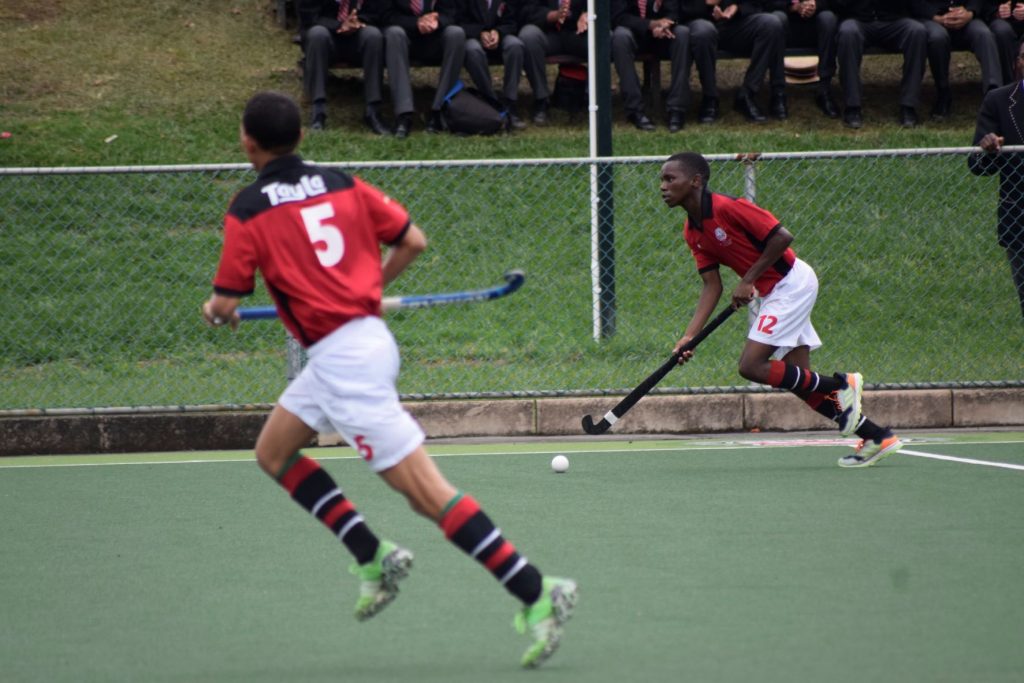 1st XI Match Report (Mr Kyle Emerson, 1st XI coach)
The College 1st XI knew that they would have a skilled and energetic opponent in the DHS 1st XI and would have to be at their best to claim a victory on Pape's. The match got off to a fast start with both teams securing a few circle entries. The first chance of the game fell to College in the 5th minute with a left sided circle entry. Kyle Dobeyn eliminated a defender, rolled the ball to Alex Styan who found Cameron van der Vliet in the circle, who did well to move the DHS keeper and flick the ball over him. College earned a penalty corner after some quick hands from Glenton Winlock allowed him to put the ball on a DHS defender's foot in the circle. The resulting corner was well saved by the DHS keeper. DHS managed a few circle entries but there were no meaningful chances in the first quarter.
A few minutes before half time, DHS secured the equaliser after a rocket of a drag-flick was put into the back of the net. DHS carried this momentum into the second half and were able to create a number of chances, but Roan Marias was on fine form to keep all of the shots out as he made some brilliant diving saves keeping his team in the game. DHS would rue these missed chances as 8 minutes from time College took the lead once again. Alex Styan turned the ball over deep and begin the counterattack. Glenton Winlock found debutant Julian Konigkramer on a run into the circle, and he brilliantly drew the keeper and rolled the ball across the face of goal to the far post where van der Vliet tapped it in. College then took the ascendancy and created a few more chances which the DHS keeper was equal to. Matthew Ponter's flick went centimetres past the wrong side of the post, but the College 1st XI did enough to hold on to the win.
It was an exciting game of hockey which could have seen the result go either way. A game played with passion and speed which was a good spectacle of attacking and structured hockey.
Summary of Scores:
Team
Opponents
Venue
Win/Loss
Score
1st
DHS
Pape's Astro
Won
2-1
2nd
DHS
Pape's Astro
Won
6-0
3rd
DHS
AB Jackson Astro
Won
10-0
4th
Howick 1st
AB Jackson Astro
Cancelled
5th
Carter 1st
Pape's Astro
Won
2-0
16A
DHS
Pape's Astro
Drew
1-1
16B
DHS
Pape's Astro
Lost
0-1
16C
DHS
AB Jackson Astro
Drew
0-0
16D
DHS
Barns' B
Lost
0-2
16E
DHS
Barns' A
Won
3-0
16F
Howick 14A
AB Jackson Astro
Cancelled
14A
DHS
Pape's Astro
Won
1-0
14B
DHS
Pape's Astro
Lost
0-2
14C
DHS
AB Jackson Astro
Lost
0-1
14D
DHS
AB Jackson Astro
Won
2-0
Soccer
College's football teams have enjoyed the start of the 2nd term Coastal and Inland KZNHSFA Leagues. The introduction of the SuperSport Schools platform has meant that all the games across all the age-groups can now be viewed live – a fantastic and welcome addition to the leagues.
* Selected results:
1st XI vs Haythorne drew 1 – 1
1st XI vs Alex won 2 – 1
2nds vs Michaelhouse won 3 – 0
U16A vs Pinetown lost 3 – 2
U14A vs MCS won 7 – 0