Overview Sporting Achievements
This weekend, College took on teams from DHS in cricket, water polo and basketball fixtures.
Cricket
College fielded 13 teams this weekend with 12 of the games against DHS, and one game against Michaelhouse. College won 8 of their matches, 3 were abandoned due to bad weather, and they lost just the 2 games.
It was the last game of the season and probably the last for the year for our 6th formers, so the 1st XI's convincing win was especially rewarding. DHS won the toss and had no hesitation in electing to bat on a good wicket, but with the overhead conditions suiting bowling – the decision did not disappoint College Captain Caleb Hibbert. At the start of the bowling innings, the College bowling attack of Andile Simelane and Bryn Brokensha bowled inconsistent lengths and this allowed the DHS batsmen to settle and they were able to punish anything loose.  DHS justified their decision to bat first, racing to 58 for no wicket in the first ten overs. College were rewarded in the 11th over, when first change bowler Cayden Hohls, on debut, broke the 58 run opening partnership, having the DHS opener dismissed, with a fantastic catch at slip, by Stefan Delport. Keyan Gace and Hohls bowled superbly, using the conditions well to slow the DHS run rate.  DHS got to the 100 mark in the 27th over. Wickets fell at regular intervals, the College bowling and fielding improved and did not allow DHS to build any meaningful partnerships.  The 9th wicket partnership of 30 was broken by Bryn Brokensha who was rewarded with 2 wickets at the death. The pick of the bowlers was undoubtedly Hohls who bowled with great skill to pick up 4 for 44 in 9 overs.
College once again got off to a great start through Stefan Delport and Makabongwe Ngcobo, the opening partnership worth 97 in 15 overs. Ngcobo was first man out for a well-played 45. Three quick wickets followed and at 110 for 4, College had allowed DHS back into the game. Johnathan Van Zyl and Gace steadied the ship with a 54 run partnership, Gace getting out with College needing 14 runs to win. Van Zyl ensured there was no late drama getting his team home to win by 5 wickets with 19 overs to spare.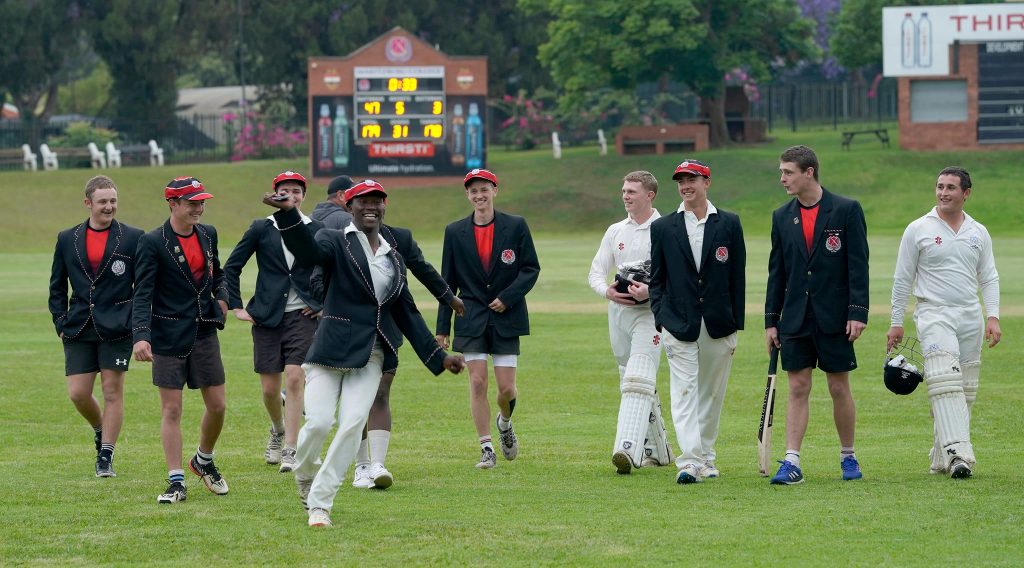 After their 5-wicket win over old mates, DHS, on Goldstone's, the 1st XI leave the field as they enjoy Andile Simelane's exuberance.
Credit: Justin Waldman Sports Photography
Scores in brief:
DHS 177 all out; Hohls 4 for 44, Brokensha 2 for 20, Hibbert 2 or 11
College 179 for 5; Delport 52, Ngcobo 45, Van Zyl 44*
College won by 5 wickets
Summary of results:
Team
Opposition
Summary
1ST
DHS
DHS 177 all out; Hohls 4 – 44, Brokensha 2 – 20, Hibbert 3 – 11

College 179/5; Delport 52, Ngcobo 45, Van Zyl J 44*

College won by 5 wickets

2ND
DHS
College 291/7; Smith 77, Ponter 53; DHS 105 all out; Ponter 3/21

College won 186 runs

3RD
DHS
DHS 73/10; Steyn 3/5,

College 74/0; Quinn 40*

College won by 10 wickets

4TH
DHS
DHS 95/5 in 16 overs (Reduced due to weather)

College 96/1; B Thomson 49 *, Pascoe 30

College won by 9 wickets

5TH
MICHAELHOUSE  5TH
College 156 / 3; Marsh 61*, Dobeyn 41*

Michaelhouse 120 / 9

College won by 36 runs

U15A
DHS
DHS U15a 82 all out; Beauclerk 2-4, Da Costa 2-13, Mason 2-21

College U15a : 83/5, Mason 32*
College won by 5 wickets

U15B
DHS
DHS 177 all out

College 83 all out

College lost by 93 runs

U15C
DHS
College won by 124 runs
U15D
DHS
Match Abandoned
U14A
DHS
DHS 287/5

College 172/9; Dedekind 54*

Match Abandoned

U14B
DHS
College lost by 33 runs
U14C
DHS
DHS 114/8; Ngubane 3/12 in 3

College 121/6; Smythe 26 *, Ngubane 17 *

College won by 4 wickets

U14D
DHS
Match Abandoned
Basketball
It was a great day for our basketball teams against DHS with all the games being played at home.
Our 1st team scored a very convincing win of 107-78, and College won 11 of their 12 matches.
Despite threats of rain, all the outdoor fixtures went off without a hitch. Inside the Alan Paton hall, when it came time for the first team game, nerves were high as the boys stepped into a battle in which Maritzburg College had come out second for over 5 years. The first two quarters were a power struggle as the teams went back and forth with DHS holding the lead for much longer than College. It's unknown what was said to the boys during the halftime break, and perhaps it was just the spirited supporters singing "Boys of College" but the third quarter saw a different Maritzburg College step onto the court. The team played like a well-oiled machine, staying tight in defence and selflessly creating gaps for one another on offence. For the second time in two consecutive weekends, the 1st basketball team, scored 100 points in a 40 minute game, with T. Crawford being the scorer of the 100th point this week. The team worked as a unit and there wasn't a single player who didn't score. In the end, however, it was rising star C Henman, who made the biggest difference on paper, managing to put an unimaginable 30 points on the board.
Summary of results:
1st won 107-78
2nd won 43-17
3rd won 53-26
4th won 21-15
U15A won 22-18
U15B won 30-20
U15C lost 18-25
U15D won 18-12
U14A won 40-15
U14B won 24-19
U14C won 58-10
U14D won 20-6
Waterpolo
Unfortunately it was tough day in the pool for the waterpolo teams with 4 losses and 1 draw for our boys against DHS. Our 1st water polo hosted DHS at College, and the game began with College taking an early lead from a penalty from T Roux. DHS came back and took the lead in the first chukka 1-3. In a game that we knew was going to be tough, College fought hard and showed great spirit by never giving up. DHS managed to keep their lead in the game, despite the strong performance of Z Rowe in goals, and College eventually went down 7-12.
Summary of results:
1st lost 7-12
2nd drew 5-5
U15A lost 7-16
U14A lost 5-17
U14B lost 1-11