Overview Sporting Achievements
This weekend, College took on teams from home rivals St Charles College (SCC) in cricket, water polo and basketball fixtures.
Cricket
College fielded 13 teams this weekend with 11 of the games against SCC, and two games against Michaelhouse. Overall College won 8 of their matches, and lost 5.
The College 1st XI made the short trip across Pietermaritzburg to take on city rivals SCC at SCC. College lost the toss and SCC unsurprisingly elected to bat on a dry wicket that would, recognisably, get lower and slower as the day progressed.
SCC got off to a slow start, losing their first wicket in the 6th over, with Bryn Brokensha taking the wicket with the score on 14.  It didn't take long for College to pick up a second wicket, thanks to wicketkeeper Johnathan van Zyl with his second catch of the day, this time off first change bowler Cayden Hohls. SCC battled against some quality fast bowling from Andile Simelane, who was unlucky not to pick up a wicket, his 7 overs going for only 13 runs. Keyan Gace produced a magnificent piece of fielding to run out the SCC opening batsman, putting them pressure at 54 for 3 after 18 overs.  SCC started to fight back before tea, putting on their biggest partnership of the game (44), getting to tea on 88 for 3. Hohls increased the pressure straight after tea and SCC were not able to put together any meaningful partnerships losing wickets at regular intervals. College was excellent in the field after tea, and brilliant fielding from Simelane to execute a runout and a great catch by Tyler Guise Brown, ensured St Charles were always unsettled and not able to set a defendable target. SCC were all out for 171.
College's openers Stefan Delport and Keyan Gace's run chase started steadily, with Delport being the first to lose his wicket, edging a wide, full delivery to the wicketkeeper in the 7th over. In the 11th over, captain Hibbert was out to a soft dismissal, hitting a full toss to the lone fielder, in the deep, who took a diving catch, putting College at 39 for 2. There seemed to be some pressure but that was the last success for the SCC bowlers as Gace and van Zyl batted intelligently, and at the tea-interval College were 110 for 2 after 25 overs. Even though van Zyl was the more aggressive of the two batsmen, Gace was the first to his half century, getting to the landmark off 77 balls. Gace continued his valuable contribution by rotating the strike and aiding Van Zyl in getting to 50 off 56 balls. Van Zyl continued his assertive batting and took the attack to SCC, and was able to put the bowlers under pressure with his ability to score all around the wicket, scoring an unbeaten 80 not out, off 80 balls. The Gace-van Zyl contribution of 134 fortified the College response and College raced passed the target in the 35th over, winning by 8 wickets.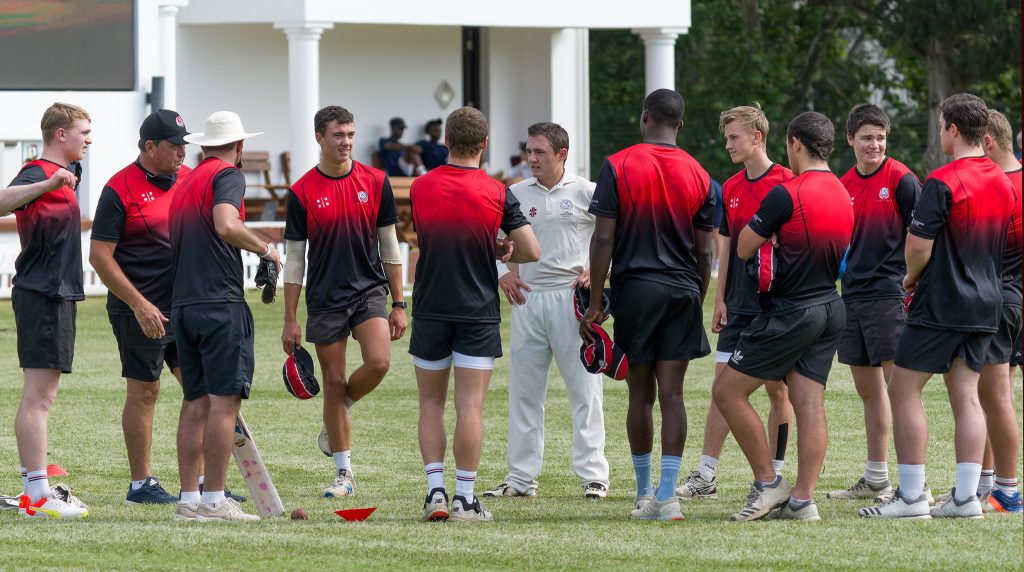 A poignant moment as Maritzburg College's captain and 6th former, Caleb Hibbert talks to his team at the start of the match. Co-incidentally, the two bowlers who performed best on the day are standing on either side of him; Bryn Brokensha to the left and Cayden Hohls to the right.
Credit: Justin Waldman Sports Photography
Scores in brief:
St Charles 171 all out; Brokensha 3 for 19, Hohls 3 for 35
College 173 for 2; Van Zyl 80*, Gace 61*
College won by 8 wickets
Summary of results:
Team
Opposition
Summary
1ST
SCC
SCC 171 ALL OUT; BROKENSHA 3 – 19, HOHLS 3 – 35
COLLEGE 1ST XI 173/2; VAN ZYL 80*, GACE 61*
GACE AND VAN ZYL 134 RUNS PARTNERSHIP, COLLEGE WON BY 8 WICKETS
2ND
SCC
COLLEGE 157/10; KHUMALO 40, SMITH 36
ST CHARLES 158/9 WIGGLE 4/26
COLLEGE LOST BY 1 WICKET
3RD
SCC
SCC 108/10; O'CONNOR 4/23
COLLEGE 110/2; QUIN 61*
COLLEGE WON BY 8 WICKETS
4TH
SCC
COLLEGE 131/6; NAIDOO 55*
ST CHARLES 105/10; BARKER 5/14 INCLUDING A HATRICK, MCILRATH 2/14
COLLEGE WON BY 26 RUNS
5TH
SCC
ST CHARLES 29/10; HUTTON 4/19, STEAD 3/7
COLLEGE 30/0
COLLEGE WON BY 10 WICKETS
U15A
SCC
COLLEGE LOST BY 105 RUNS
U15B
SCC
COLLEGE 235/5; BOTHA 56*, TOCKNELL 53
ST CHARLES 54 ALL OUT, BOTHA 6/11
COLLEGE WON BY 181 RUNS
U15C
MHS
COLLEGE 162/7; EGBERINK 45
MHS 123/7; KRITZINGER 4/9
COLLEGE WON BY 39 RUNS
U15D
SCC
COLLEGE 159/6; HART 63
SCC 122 ALL OUT; WERTH 3/18
COLLEGE WON BY 37 RUNS
U14A
SCC
COLLEGE 80 ALL OUT
SCC 81/4
COLLEGE LOST BY 6 WICKETS
U14B
SCC
COLLGE LOST BY 16 RUNS
U14C
MHS
COLLEGE 129/10; SINGH 33
MHS 128/7
COLLEGE WON BY 1 RUN
U14D
SCC
COLLEGE LOST BY 2 WICKETS
 Basketball
It was a tough but overall good day for our basketball teams playing SCC, with all the games being played at SCC. College won 8 of their 13 matches. These fixtures are always anticipated to be epic battles between two of the best basketball schools in KZN. Our junior games started off the day with pleasing results with no losses in the u14 age group and only one at u15 level.
When it came time for the senior games, College's success started to dwindle. With hard fought losses for our 5th, 4th, 3rd and 2nd teams, the first team was saddled with the burden of turning it around. The game started off on a high note with the supporters of each side being very vocal. College seemed to be playing with a renewed sense of determination as they stole the lead early. Although there were moments of panic where St Charles sunk 3 pointer after 3 pointer, College managed to maintain their lead from the onset and throughout. They played as a unit and were so in sync that St Charles battled to find the gaps they needed to come back. Between A. Ngcobo's quick steals, T. Sithole's improved defence and a total of 18 overall points from C. Henman, St Charles just couldn't find an answer for this new and tough-to-beat College team. In the end, College walked away with a comfortable win and a streak to maintain next week against Michaelhouse.
Summary of results (vs SCC):
1st won 61-52
2nd lost 33-46
3rd lost 28-31
4th lost 20-22
5th lost 15-31
U15A won 28-16
U15B won 25-18
U15C lost 22-26
U15D won 26-9
U14A won 27-14
U14B won 35-3
U14C won 54-3
U14D won 31-6
Waterpolo
On Friday afternoon College hosted SCC at College's Dudley Forde Aquatics Centre for water polo. As the game started College managed to earn a penalty which was scored by T Roux to take an early lead. Applying good pressure, the College side extended their lead in the first chukka to 6-1. SCC came back hard in the second chukka and each side managed two goals a piece to have the score 8-3 to College. College continued to apply pressure and with strong defence extended their lead in the last two chukkas to win the match 18-5.
Summary of results:
1st won 18-5