Overview Sporting Achievements
This weekend saw the last of College's summer fixtures for 2021, with just our 1st teams in action against Michaelhouse.
Cricket
College fielded four teams this weekend against Michaelhouse; our 1st and 2nd XI teams as well as the U15A and U14A. The schools are well matched and final results saw an even split with College winning two of their matches and losing two.
1st XI Report
College Captain Caleb Hibbert won the toss and did not hesitate in electing to bat on a good batting pitch.  The grey overcast conditions were a concern, adding some swing to the bowling attack, but also meant that the morning outfield dew had not dried completely and creates favourable batting conditions. It looked a good decision, with Michaelhouse's only success being that of the early loss of Keyan Gace. Stefan Delport survived two early LBW shouts, but after that he and captain Hibbert batted well for a 75 run partnership. The game was evenly poised at tea with College on 112 for 2, just after the break Michaelhouse took their 3rd wicket that of Johnathan van Zyl. From then on College dominated the game with small partnerships, mostly at a rate of better than a run a ball. Delport was first joined by Tyler Guise Brown and then Andile Simelane, who did some hard hitting, and fast scoring, to set up the match for College. Delport batted intelligently, not trying to hit the ball too hard, and with excellent placement was able to put pressure on the Michaelhouse bowlers and fielders.  He brought up his century off 91 balls with a superb cover drive. Delport carried his bat for the entire forty overs, ending unbeaten on 145 off 124 balls. College ending the batting innings on 273 for 6 in their allotted 40 overs.
The Michaelhouse start was solid but slow, getting to 22 for 1 in the first power play of 8 overs. The College bowling was disciplined and fielding excellent and at tea after 20 overs, Michaelhouse were 88 for 2.  The Michaelhouse middle order played positive cricket with two partnerships, the first of 57 off 46 balls and the second 68 off 60 ball, the breakthroughs were made by Mark Laithwaite and Carrick McKean. With the run rate climbing and the possibility of bad weather approaching, College tried to get through their overs as quickly as possible, to ensure a result. In their attempt to get through the overs and with some light drizzle, the College fielding quality slipped a little, but wickets fell at regular intervals, never-the-less, with all the bowlers chipping in.  Michaelhouse were all out in the 40th over for 227, giving College a well-deserved 46 run win.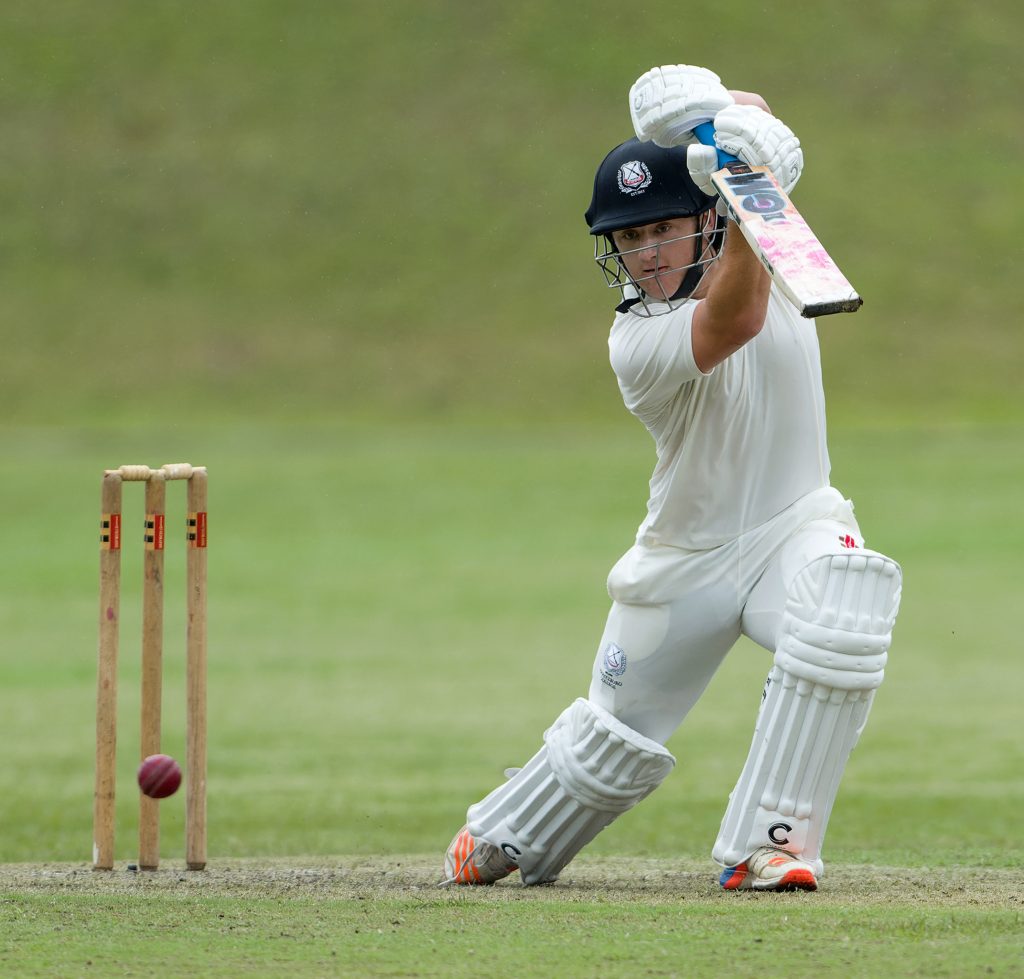 "Ending in style" – Congratulations to College's 1st XI opening batsman, Stefan Delport, for an unbeaten 145 against Michaelhouse in the last match of the 2021 season. College won by 46 runs.
Credit: Justin Waldman Sports Photography
Scores in brief:
College 273/6 after 40 overs, S Delport 145 not out
Michaelhouse 227 all out; Mckean 3/23, Laithwaite 3/57 and Simelane 2/25
College won by 46 runs
Summary of results:
Team
Opposition
Summary
1st XI
Michaelhouse
COLLEGE 273/6 AFTER 40; S. DELPORT 145*
MHS 227/10; MCKEAN 3/23, LAITHWAITE 3/57, SIMELANE 2/25

College won by 46 runs

2nd  XI
Michaelhouse
COLLEGE 273/6 AFTER 40; S. DELPORT 145*
MHS 227/10; MCKEAN 3/23, LAITHWAITE 3/57, SIMELANE 2/25

College lost by 26 runs

U15A
Michaelhouse
MHS 213/7; BARATH 3-33
COLLEGE 187/10; PONTER 33 CURRIE 33

College lost by 86 runs

U14A
Michaelhouse
MHS 230/9

COLLEGE 231/6

College won by 4 wickets
Basketball
It was also even split of results for our basketball teams playing Michaelhouse at College, with College winning 2 of the 4 games. Our senior and most junior teams secured comfortable victories, with the 2nd and U15A teams losing narrowly.
Michaelhouse arrived at College and from the start, the energy was electric. The first three games were a great start to the day, between a high paced u14A game, a very competitive performance from the U15A side, and a hard fought loss for the second team
The 1st team game was the final game of the day and was highly anticipated. The first team were dominant from the start and Michaelhouse struggled to find a way around their impenetrable defence. The likes of A. Ngcobo, T. Sithole and W. Dlamini provided an offensive problem which Michaelhouse just couldn't find an answer for. With S. Mbonambi having mastered the art of using his imposing height to defend without fouling, Michaelhouse were forced to try find ways around him before they could score, and in the end, they weren't able to do so. Of course C. Henman kept up his fast growing streak of putting the most points on the board for his team. His final tally for this game was a hot 20 points which added massively to his side's inevitable victory. This game cannot be discussed without the mention of the highlight moment. A powerful dunk in the fourth quarter courtesy of K. Mthimkhulu which had every onlooker on their feet.  In the end, it was the team chemistry and die-hard spirit which College displayed that won them the game with ease. If they can keep this up, the coaching staff foresee a dominant 2022 side.
Summary of Scores:
1st won 72-40
2nd lost 31-36
15A lost 17 – 21
U14A won 54-26
Waterpolo
It was mixed results for the waterpolo teams playing Michaelhouse today, with one win and two losses. Our U15A won their game 9-5, while our 1st team lost 9-17 and the U14A also suffered a loss 4-14.
Our 1st team had a tough start conceding 5 goals in the first chukka. In the second we were able to score 2 goals but Michaelhouse extended their lead to 2-9. College then scored 3 more goals in the third chukka but Michaelhouse topped that with 5 of their own. College managed to win the last chukka 4-3 but it was unfortunately too little too late in the attempts to close the gap. College went down 9-17.